NanoActive phytosterol is a new phytosterol nanoliposome preparation (NanoLiposomal phytosterol).
Product Name: Nano Liposomal Phytosterosl; Nanoactive PHYTOSTEROLS; BioaActive PHYTOSTEROLS; Soluble PHYTOSTEROLS CAS: 68441-03-2
Description: Phytosterol is a kind of substance with cyclopentane perhydrophenanthrene (also known as steroid nucleus) as its frame. It is similar in structure to animal sterols such as cholesterol, and is in free or binding state in nature. Known as the "key to life" and widely found in plants, phytosterol is a kind of natural physiologically active substances beneficial to humans. It can inhibit the cholesterol absorption of humans, promote the degradation and metabolism of cholesterol, inhibit the biosynthesis of cholesterol, etc., and has been found to have the function of inhibiting cardiovascular diseases in animal studies. Also, it is effective in anti-cancer, anti-tumor, anti-inflammatory, improving immunity, regulating growth, anti-virus, anti-oxidation, etc. In recent years, it has been proved that phytosterol has skincare effects such as anti-inflammatory, anti-irritation, moisturizing and anti-wrinkle. However, its poor solubility in water and oil, and demulsification when added in the formulation limit the application in cosmetics. The NanoActive phytosterol, developed with the nano-transmission system (NDS), has a particle size of less than 30nm, which solves the problems of solubility and enables phytosterol to be stably encapsulated in nano-carriers, thus greatly improving absorption efficiency and bioavailability.
Main component structure of phytosterol
Cholesterol is an important component of the epidermal layer of skin and plays an important role in maintaining skin health, but direct application of cholesterol to the skin can cause acne and inflammation. Phytosterol has a structure similar to cholesterol, so it can be used in skincare cosmetics to replace cholesterol. Phytosterol also has a similar effect to cholesterol on skin, which can increase skin elasticity and resist wrinkles, and help restore harmed skin. Compared with cholesterol, phytosterol is featured with the functions of anti-oxidation, anti-inflammation, anti-irritation, etc. Recently, German studies have further discovered that (Hautarzt. 2008 Jul; 59(7): 557-62.) phytosterol can effectively inhibit the expression of the collagen-degraded matrix metalloproteins (MMPs), block the decreased synthetic expression of collagen COL1A1 and COL1A2 induced by UV irritation, and even promote collagen expression. Therefore, it has a good moisturizing and anti-wrinkle effect and is an ideal anti-aging active substance. With high permeability to skin, phytosterol can maintain the moisture on the surface of your skin, promote skin metabolism, inhibit skin inflammation, prevent sunburn erythema, skin aging, facilitate hair growth, and nourish hair.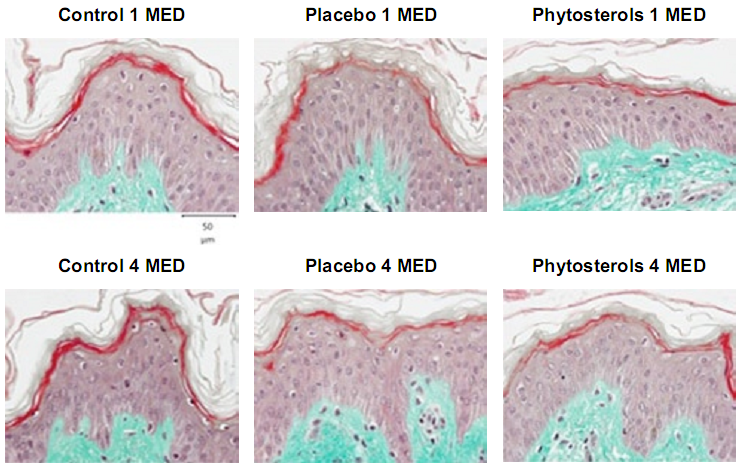 Phytosterol completely inhibits sunburn cell production (MED: minimum erythema dose, UV units)
Use:Add it at room temperature. You may heat it to above 40 °C to speed up its dissolution; recommended dosage: 1-5%. It works better with products such as nano vitamin A and ceramide.
Storage: Keep it away from light at a temperature below 25℃.